Top 2009 Halloween costumes: Dead celebrities
Recently deceased stars like Michael Jackson and Farrah Fawcett are popular choices this year. Other hot costumes include Balloon Boy and Kate Gosselin.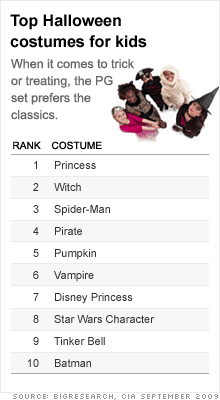 NEW YORK (CNNMoney.com) -- In a year marked by some shocking celebrity deaths, Halloween feels even more macabre.
One of the spookiest aspects of Halloween 2009 is its heavy reliance on recent obituaries, most notably the passing of the King of Pop.
"When you go to a party there will be a person dressed as Michael Jackson, no doubt," said Jalem Getz, president and CEO of Buyseasons Inc., the parent company of BuyCostumes.com.
Searches for the costume, which generally includes tight black pants, a leather jacket and, of course, a glittering glove, have gone up more than a 1000%, according to Getz.
Other popular dead celebrity costumes include Farrah Fawcett, Ed McMahon and infomercial pitchman Billy Mays.
Heath Ledger-inspired Joker costumes, as well as the Dark Knight, may also reappear this year.
Meanwhile, diehard Twilight and True Blood fans have breathed new life into classic vampire attire, and reality celebs Jon and Kate Gosselin will likely be well represented on the trick or treat circuit.
Balloon Boy costumes are also sure to take flight this year, as little Falcons hit the streets with silver helium balloons or homemade tinfoil counterparts.
"People like to be current," Getz said of the current top choices. And no matter how grim, "we don't judge our customers," he added.
Also trendy this year? Saving money. According to the National Retail Federation's 2009 Halloween Consumer Intentions and Actions Survey, total Halloween spending is estimated to fall 18% to $4.75 billion, down from $5.77 billion last year.
Robert McCorkle, the manager of costumes at NY-based costume retailer Abracadabra, says that instead of buying packaged costumes, more people are piecing together looks with accessories and clothes from their closet, particularly when it comes to 60s, 70s and 80s costumes.
But that mentality has taken a noticeable bite out of costume retailers' bottom lines, including Abracadabra's. "Last year we were doing good around this time, with $5,400 at the end of the day, this year it's more like $3,200 to $3,400," McCorkle said of their daily revenue.
"The economy has caught up to Halloween this year," Tracy Mullin, president and CEO of the National Retail Federation, said in a statement. "Since retailers know that Americans will be looking to celebrate on a budget, there's no doubt we will see creative costume and decorating ideas in every price point imaginable."
The report found that the average consumer plans to spend $56.31 on Halloween merchandise this year, down from $66.54 in 2008.
Consumers plan to spend an average of $20.75 on costumes, which includes children's and pets' costumes, $17.99 on candy, $14.54 on decorations and $3.02 on greeting cards.

Features

These Fortune 100 employers have at least 350 openings each. What are they looking for in a new hire? More

It would be the world's second-biggest economy. See how big companies' sales stack up against GDP over the past decade. More