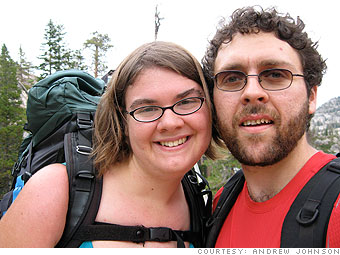 Andrew and Anna moved to the country to get their "code" on.
Who: Andrew Johnson and Anna Hentzel, both 28
Launched: Website and mobile-phone app
Andrew Johnson was living in San Francisco working at a startup, and his fiancée, Anna Hentzel, was at Google, when they had an idea for a website that would help people find great places to hike. So they quit their jobs to start it.
They soon moved to a town in the woods called Truckee, about a three-hour drive from the city. "We wanted a place where we could incubate our startup," said Johnson. "If we were going to be at home coding all day, there was no reason for us to be in San Francisco all day."
With the help of a $25,000 grant from Facebook, they created the Trail Behind Web site, and then launched a mobile phone app,
Gaia GPS
, that lets hikers track their location while they're in the woods. The firm's revenues have been growing and in December, about two years after the launch, the couple plans to head back to San Francisco so they can expand their offerings further and grow their staff.
But for now, they enjoy being right next to Tahoe National Park: They can walk out the back door and hike for as long as their legs will take them.
"Truckee is awesome if you don't have to drive around a lot, because you are often surrounded by a lot of snow," said Johnson. "It's a great place to keep your nose to the grindstone."
NEXT: Alaska; St. Thomas; Central America?