Olympic sponsorships don't have to cost millions. Meet 5 small companies with oddball official deals.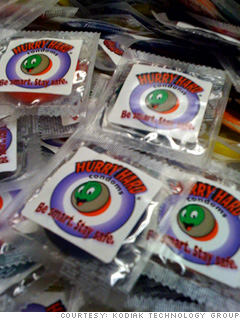 Hurry Hard Condoms, U.S. Curling
Like most viewers, Kodiak Technology Group CEO Daniel Field had no idea what the heck was happening the first time he saw a curling match on national television. Now, 12 years later, Field has curling fans from around the globe equally puzzled about a product his company recently helped launch: an official curling condom.
What the heck?
In a partnership with the U.S. Curling Association, Kodiak Technology Group debuted the Hurry Hard Condom in December. Named after the common chant -- "hurry hard!"-- that curlers yell at teammates to encourage faster ice sweeping, the provocative product lends a racy edge to an often-overlooked sport.
The condom is actually a fundraiser in disguise. Sold on eBay for $4.99 each, the condoms' proceeds are split between the U.S. Curling Association and Monterey County AIDS Prevention, a California organization that focuses on HIV and AIDS education.
The fundraiser/publicity stunt has already garnered international media attention, and Field expects many sports fans will buy the condom simply as a collectible or gag gift.
So what does a software holding company in Chicago have to do with curling? And, more importantly, curling condoms?
After the curling broadcast piqued Field's interest, he gave the sport a try about 10 years ago. The infatuation lasted. Soon Field became a team sponsor -- and spotted opportunities to corner a niche market. Kodiak Technology's holdings include Web hosting and IT startups. So Field built curling Web sites and launched the first live, online audio casting of the sport, with ex-curlers serving as announcers.
It turns out curling fanatics are a small and friendly bunch. Field says he's met a surprising number of small-business owners through the sport, some of whom have become clients.
Now a curling fan to his core, Field says the Hurry Hard condom is not about making big bucks. It's a way to spread awareness of curling, help a good cause -- and get a few clients to "laugh their butts off."
NEXT: Chums